Can't find the watercooling part to complete your order in one shipment ?  Contact Us Here! We'll find it for you.
EK-Quantum Torque Rotary 45° – Black 3831109814482
Reliable delivery - flat rate across Canada
Secure payment - Your data is protected
Details
EK-Quantum Torque (Adapter Fitting) - Black is a revolvable angled (45°) adapter fitting with G1/4" threads. In the form of a cut-off cylinder, it is very sturdy and there are zero movements in the revolvable joint. This Quantum Line adapter is made out of CNC machined brass with high-quality Satin Black finish while the seal is made by quality rubber O-rings. Black EK-Quantum Torque series fittings are intentionally not painted on the inside to reduce the level of possible pollutants in the loop.  It is an extremely secure and sturdy piece that will last for many future builds.
The adapter allows for connection of fitting with G1/4" threads to extend tubing possibilities in your water cooled system allowing for easier bends and better accessibility.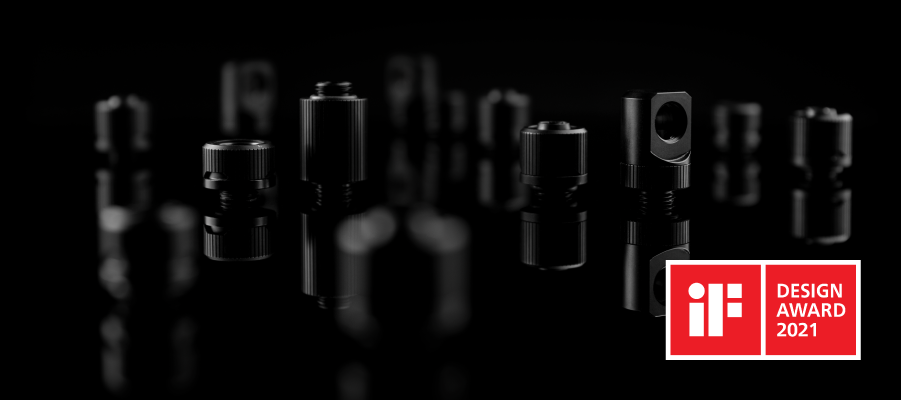 EK-Quantum Torque series products received the prestigious iF Design Award. A robust and industrial aesthetic sets the Torque family apart by highlighting the precise manufacturing processes used to create them. In addition, enthusiasts can add a unique color ring to give a personal accent to the fitting line. The Torque family of fittings offers a secure and modular system of connections between liquid cooling components and tubing within a PC. Quantum Torque series products cover angled adapters, rotary and static extenders, splitters, G1/4" plugs, drain valves, fittings, and much more.
Technical specifications:
- Material: made of nickel plated brass
- Threads:
* G1/4" BSP; 4,5mm male thread length
* G1/4" BSP, 6mm female thread length
- The outer diameter: 23mm
- Installed height: 26mm
- Sealed with high-quality NBR o-ring.
ROHS compliant!
Additional information
| | |
| --- | --- |
| Brand | EKWB |
| Material | Nickel plated brass |
| Color | Black |
| Thread | G¼ |